Floating Shelf Systems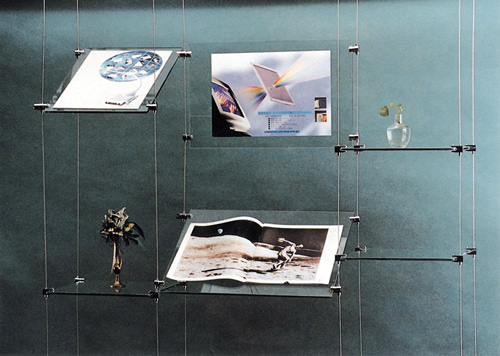 For some time the most luxurious merchandisers have used glass to display their products because it removes the distraction from everything around what is being displayed. Floating Glass Shelves are one of the hottest trends in contemporary styling. Sometimes called Hanging Glass Shelves or even Suspended Glass Shelves MBS has gone to great expense to design and construct these systems so they are simple to install, look amazing and with new manufacturing and distribution methods, really affordable. So affordable you can now have them in your home.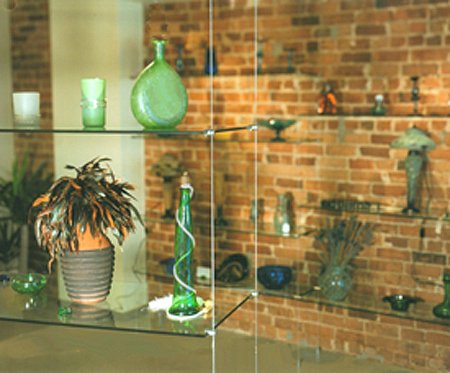 Cable Systems are used in more decorative installations. The thin cables and matching hardware make the support almost invisible. Where they are used would be a consideration. We've all seen clothing stores use them in high traffic areas very successfully. But it might not be the best fit in your home if you are displaying art glass. Even with a ceiling and floor mounted system under tension there will always be some movement to these shelves when disturbed. So it is best to use them in low traffic areas if displaying items that would tend to be knocked over.
---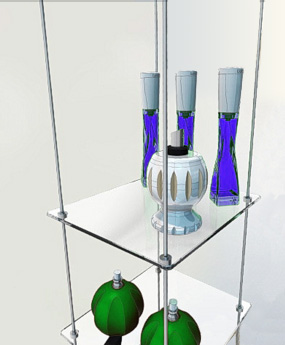 Rod Systems are our most secure mounting for floating glass. They are slightly more visible than cables but they can be set up so that the shelving is very secure and can carry quite a bit more weight than wires. An example would be to use rods over a kitchen counter or island for open glass shelving. Or even a room divider with some beautiful art glass.
---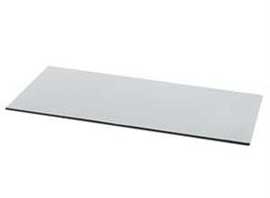 Glass Shelves are a contemporary solution for all of your display and merchandising needs. At MBS, our Glass Shelves are made with the highest quality 3/16" tempered glass and have polished beveled edges. We carry the 5 most common sizes of glass shelves, all of which will comply with the most stringent of building codes. When used with our cable or rod systems, which are sold separately, you can create a beautiful and eye catching display. All of our products are in stock and we offer Same Day Shipping on all of our Glass Shelves. If you have any questions or would like to place your order please call our highly trained staff at (813) 938-6025
---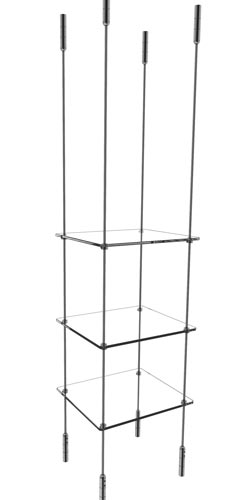 If you're looking for a clean and simple 12" x 12" 3 tier, suspended glass shelf system here is your kit! It comes with everything you need except the installation hardware, the screws and anchors. You can choose the Aluminum 3 Shelf System on SPECIAL for $99. Or our Stainless Steel 3 Shelf System for $170.07.
---
IMPORTANT:
Each Floating Shelf System is composed of several parts. What those parts are is determined by your installation. But all kits must contain cables, supports and glass.
Cables: If you need stability and your display is near a wall our "Wall" cable systems would be a good suggestion for the back or side to increase stability. The front is often anchored with our ceiling to wall kit. It is critically important that these are anchored into the support behind the wall or ceiling. They can not be mounted into just drywall. You must have a support feature to mount these to. This may necessitate some carpentry work to place supports where they are needed.
Supports: All shelves must be supported and each shelf needs four (4) supports. If you have a three (3) shelf system you will need twelve (12) supports.
Glass: The size of your shelf system has a lot to do with how it is installed. It is very important that the anchors for the cables be mounted in a solid surface such as a wall stud, ceiling joist or, if necessary, a spanner must be installed in the wall or ceiling to properly mount your shelves.
All of these systems require anchoring into solid materials (Studs, joists or spanners) or can be mounted with our aluminum tracks for ease and mobility. With our track systems you can span the distance between studs or joists making your installation very simple.
If you are a DIYer or this is the first time you have installed suspended shelves please give us a call to make sure you are getting the right product for your installation.
813-938-6025