Aluminum Rod Display Systems
Aluminum Rod Display Systems provide a beautiful and elegant way to hang suspended shelving and signage. By combining display rod systems, display holders, and standoffs a sign designer can create signage which can be displayed in many different configurations also preventing any manner of distraction from the appearance of their design.
Aluminum rod systems made of lightweight aluminum contribute to a modern appearance for commercial organizations. Also, by suspending a sign using a rod display system a business will be certain to utilize the commercial space effectively. Lastly, rod display systems create a chic appeal that is sure to accomplish a more noticeable presence for the signs and displays.
Aluminum Rod Hanging System for Suspended Shelving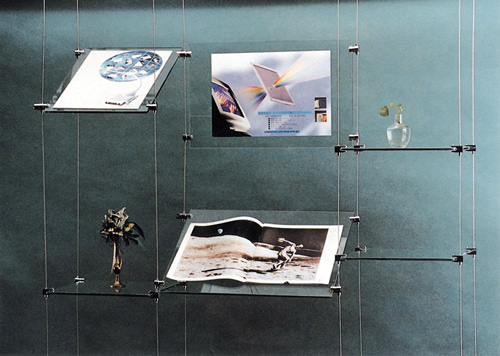 MBS has created wall mounted shelving rod systems which are ideal when exhibiting material or products such as samples of flooring, and counter tops. Suspended shelving rod displays implement a polished appearance and exclusive appearance making the material and products stand out while still allowing potential client to feel the quality of the products. For example, looking at a piece of interior home décor is exceptionally tempting to savvy trend loving customers when the décor is displayed on a stylishly mounted rod system.
Due to wall mounted display rod systems being so adaptable and stylish, rod systems have been confirmed to be a valuable aid to the advancement of small and large retailers. Unlike standard merchandise displays that are difficult to dust, and break easily that will inevitably become mismatched overtime with the need to expand, shelving rod systems made of aluminum are easily sustainable and are advantageous for when material or products are required to be switched out for brand-new merchandise.