Cable Hooks
MBS Standoffs has developed a large variety of sign, art, and picture hanging cable hooks to ensure that we are able to provide a complete solution for your project.
These cable hooks are compatible with most Cable Display Systems, Art Hanging Systems, or Suspended Systems. Please note, there are some cables, such as the GH0014 and GH0015 Self-Gripping Hooks with Safety Lock that only work with our smaller sized cables of 0.06" (1.5mm). Please read the specifications to know that you are getting the correct matching items, or, just give us a call.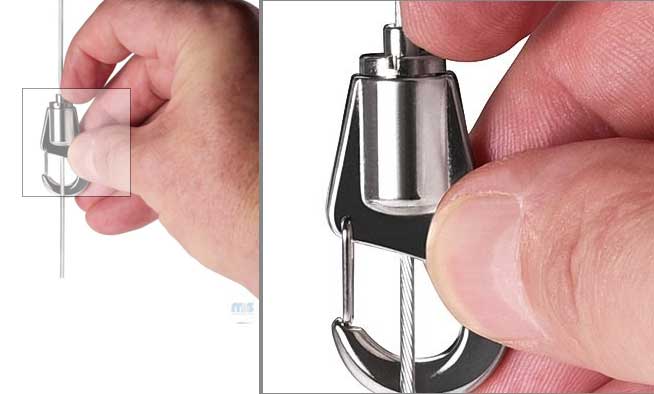 We have a variety of side-screw and self-gripping hook styles in our hanging system hardware line. Our hooks can be moved throughout the length of the cable providing an easy adjustment of the height of your artwork, signage and pictures. Multiple hooks can be used together on a single cable to create a vertical tower of pictures, or, when combined with several cables you can make a grid or collage.
We say over and over, you are only limited by your imagination. We have several blogs on how versitile these systems are. Of course they can be used in any room to hang art or signs but they also can be used to hang anything that needs hanging. In the kitchen, pots, pans, pot holders. In a study ribbons and awards. What have you used these systems for or what can you think of? Let us know so we can share it.
Here are a few examples of our blogs.
We have a complete video series on our hooks. Please visit our Youtube Channel play list to see them all.