Desktop Standoffs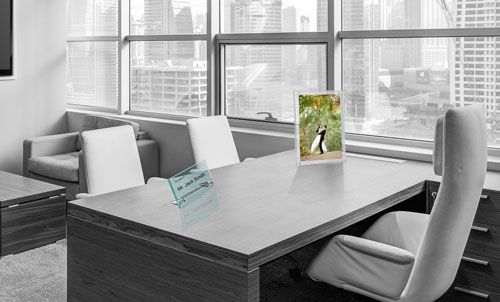 The professional desktop is more than just a place in the office where your stuff is collected; it is your home away from home. Most professionals spend at least 40 hours every week at their desk. Throughout the year, that is the equivalent of around 87 days! Many people spend more time focused in that one place than any other place in their lives. The need to personalize such a highly trafficked area is important, and there is no better way to do just that than to purchase a desktop standoff set.

For less than $15, anyone can have a complete quality glass or acrylic desktop standoff set to personalize his or her space. These sets are great for displaying your favorite photos, awards or even promotional items for a business.
Or, you can purchase the standoff separately. We offer two main styles of desktop standoffs in Aluminum, which are for use with acrylic and Stainless Steel which are made for glass but can also be used with acrylic.
View Products by Material - Just click an image below:
Choosing your Desktop Standoff
We offer three main types of desktop standoffs:
Long, Tapered, Aluminum or Stainless Steel type above that hold large, usually acrylic displays.
Stainless Steel Desktop Standoff for the glass displays. They are angled and come with felt pads and nylon washers to protect the glass. When using glass, usually tempered glass is used and it is most vulnerable on it's edges. Since the standoffs come in contact with the edges it is important that you have some protection for the glass to keep it from breaking. These standoffs come with 30 degree and 60 degree angles depending upon where you will place your display and the angle needed for proper viewing.
A long desktop standoff with a rounded end.
We also offer material connectors to keep the top of your display closed.
Aluminum desktop standoffs come in 4 colors. Just choose the color of your standoff from
Clear
Black
Gold
Polished
These aluminum standoff desk set systems are super easy to set up, they look fantastic and they are easy to change the item in the display.
The stainless steel standoffs and glass provide a couple different formats that make your display very eye catching. We offer them with flat or *curved glass.
The most obvious use of a desktop standoff set is to display personal items on your desktop to remind us of our motivation. Another great use is to display your company's promotional material in the entrance ways and reception areas or for us in exhibits or displays at conventions and expos. Our standoff desktop sign sets make your items look great and allows you to put them right in plain view so your message is not ignored.
Below you will also find the individual parts and the proper tools for working with the angled standoffs that have a setscrew. Everything you need right here at MBS.
*Please note, curved glass and glass in general requires special parts and care. Curved glass requires angled standoffs to mount properly. Please consult with our sales team if you are in any way unsure of your purchase. We are here to help.