Stainless Steel Desktop Standoffs
Stainless Steel Desktop Standoffs offer a bit more than their aluminum counterparts do.
First, it is important to know that these stainless steel standoffs are made to work primarily with glass not acrylic. As good as acrylic is it just does not offer the same appearance that glass does. The stainless steel desktop standoffs come with clear nylon washers to protect the glass and have a felted pad bottom to prevent slipping.
The benefits of using the Stainless Steel standoffs with glass are that real glass gives you a much richer and more stylish look than acrylic. It is much more resistant to dulling and scratching and reflects light in a different way that catches the eye. You can tell it is glass.
Standoff Sets with Glass
For standoff sets with glass, we offer a couple different configurations in the standoffs. For a vertical display, we offer the standoffs with a 60 degree angled bottom (pictured on left). This holds the glass facing upright for a front facing display. We also offer a standoffs with a 30 degree angle that hold the glass in a more horizontal position for displays where the viewer would be looking down on a table. Of course, they can be used as a desk set or in reception areas or in exhibits and displays on counter tops or tables.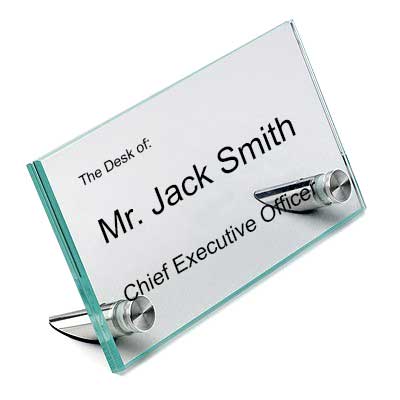 The flat glass we offer comes in several sizes with the two predrilled 3/8" holes.
To make your display even more noticeable we offer curved glass as well also with the two 3/8" holes predrilled.