LED Acrylic Panel
The New Way to Illuminate Posters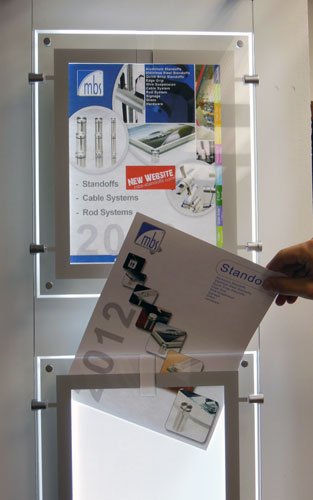 Displays have come a long way. Our industry is always finding ways to try and catch the eye of a passer by. We know that illuminating things draws peoples attention. Ever since the dawn of mankind we have been transfixed staring at a fire, gazing to the night sky and since the harnessing of electricity, developing creative ways to dazzle and impress with light. At MBS we have combined some of the latest technology to bring you a very thin, extremely power efficient, LED Lighted, Acrylic Poster and display holder. A super slim LED lightbox for the 21st century.
LED technology has revolutionized the way we look at light and lighting systems. It's not only the sheer number of possible applications that the flexibility of LED lights permits; it's also the environmental friendliness, low power consumption and long lifetime that makes LED light so great.
These LED Poster Holders or acrylic LED panels, will make any poster you put into them stand out. They hold letter-sized posters and are easily mountable on the wall without showing the power cord. If you need more than one poster illuminated, we have kits for up to four posters on a single mount. They are ultra bright and float like magic with no visible power supply, drawing people to look at your graphics.
Suspended from almost invisible powered cables, Acrylic LED Poster Holders are an eye-catching way to illuminate your posters and graphics that adds sparkle and interest-drawing attention to your promotional messages. Set them up in the front window of your store to get the attention of everyone going by. Transform your space with the one-of-a-kind LED Light Box, Poster Holder Displays from MBS-Standoffs!
If you are in the real estate industry please click here to read our blog post on how these low lost, low voltage, slim light boxes can help your office. These systems can make up great looking real estate window displays that can illuminate your window for passers by.