Sign & Poster Holders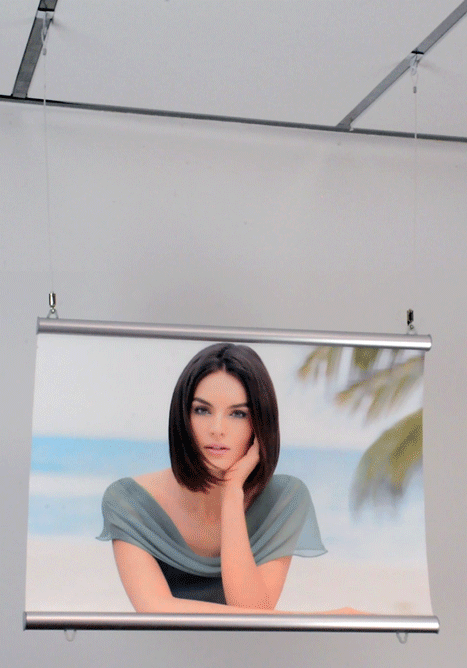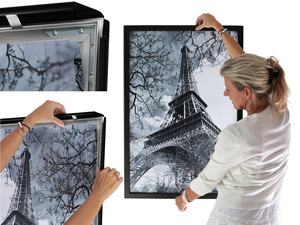 All businesses need to have signs to help customers find your business and to make it easy for them to navigate once inside to find what they are looking for. How your displays look tells the customer a lot about you and your business. This may be your chance for a first impression and we all know how important that is. Look professional and competent and people will have no problem doing business with you. Look unprofessional in your presentations and you may never even get a chance to do business. A simple poster rail that costs a few dollars can be the difference.
Our Hanging Sign and Poster Holders or Poster Rails are very inexpensive and look terrific. They come in several sizes and styles to fit your budget. We offer poster rails that clamp on to the top and bottom of the poster and can be hung with our drop ceiling hanging system or, even with suction cups on glass doors and windows.
Rail Banner Hanger Systems
These Snap Rail Banner Hanging Systems are far less expensive than traditional framing methods and much more flexible. These are designed for speedy, easy use in a variety of places. Use them on a wall or hanging from a ceiling. They are even light enough to hang from suction cups on glass. Using one of our cable systems you could set up an array of signage. They can be a quick change option or a more permanent solution, the choice is yours.
Snap Frame Poster Holders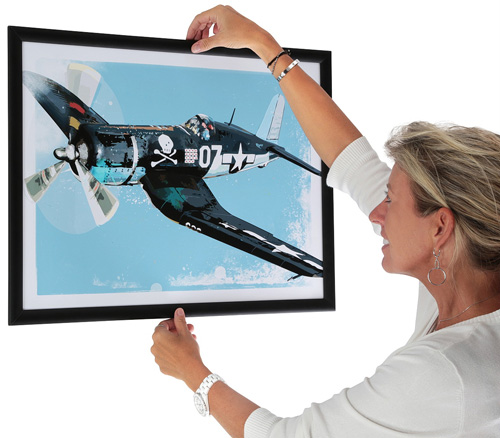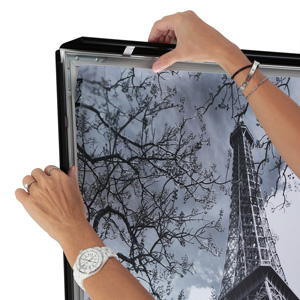 If you are looking for a more traditional frame our Snap Frame Poster holders are another great way to display items in your business, store, shop office or even home! They look great providing a professional finish and are very easy to use. Plus, they have the added benefit of the transparent pvc protective sheet over your items keeping them safe from anything that might damage them.
They mount very easily with a center hole in the back or there are holes inside the track itself that allow for your choice of mounting hardware. Once you have it installed changing your items is, pun intended, a snap!
Whatever your display needs are MBS is here to help you make a quick, responsible buying decision that will provide you with the best product and the lowest prices. With 99% of all items in stock they ship the same day. Have an event next week? You can safely order your displays from us and they will arrive in plenty of time to make you look professional.