Standoff Sign Sets with Glass or Acrylic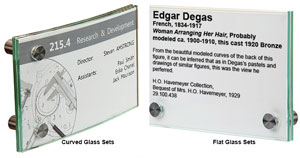 MBS offered many quality signage solutions for your office or business to communicate information to your employees and patrons. Our signage sets offer a convenient method to display your information in a fashionable manner, while not having to hire a sign designer to create and install the sign. These systems are easy to install and maintain and we have many aesthetically pleasing styles to choose from so you should be confident that you will not be sacrificing the professional appeal of your commercial property.
(Great for Museum and Gallery Descriptions)
Door & Wall Sign Holder
In terms of wall signage which can be used as door name plates and museum and gallery description displays, we have both flat and curved signage selections to choose from in a variety of sizes. This type of wall sign holder can be used as an office door name plates, identify a meeting room, and even something as simple as identifying the men's and ladies restrooms. We also have a specialized sign that has a busy indicator to use for meeting rooms. This type of signage will also be effective as name plates for walls since the wall mounting does not differ from that of a door.
But where they really can make an impact is for museums and galleries to use for display descriptions. They truly elevate the presentation to have a quality, glass mounting next to a museum or gallery piece for the description rather than a cheap piece of plastic stuck to the wall with double stick tape. These are easily updated by your staff yet are relatively secure from the general public. Don't degrade your presentation with anything less. GLAM (Gallery, Library, Archive Museum) Pros know, details matter.
Desktop Name Plates & Tabletop Signage
Desk name plates and tabletop signage are great for displaying informational material on a solid surface such as a desk or table. This variety of signage set is used in restaurants & bars, meeting rooms, offices, event venues, financial institutions, in addition to many other uses.
Tempered Glass Signage
MBS has glass signage products variety of different sizes. Some of the tempered glass comes with pre-drilled holes to attach standoffs, while other tempered glass panels come without holes providing a great solution to be used with our edge-grip standoffs.