Desktop Set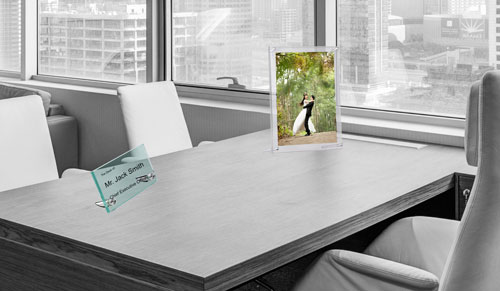 MBS offers complete Desktop Standoff with Glass sets. Included is everything you need for a great looking display. We offer them in Tempered Glass and Acrylic. This is a great gift idea for a professional environment. It will last throughout their career and allow the recipient to keep things important to them in front of them throughout the day, reminding them of your gift. Great for bosses or subordinates or even as a gift for clients! Buy several and save.
These Standoff Sets can be used for a variety of purposes. For the smaller glass sets, the most obvious use would be to use them for identifying a workspace. This could be a nameplate or a workstation designation. They can also be used for personal items like photos or mementos to personalize a space while not taking up much room.
The most common use for the larger acrylic displays are for family photos, memorabilia or promotional items. The styling makes them great for any display. Use them in an office on a desk or a reception counter to hold promotional items. There are many uses around a business for these sleek looking displays.
These are complete sets that include two (2) Standoffs and two (2) pieces of glass or acrylic (Larger units also include two (2) material connectios to keep the top closed).
View Products by Material - Just click an image below: