Z-Clip Panel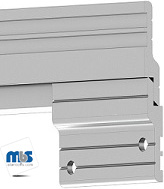 Z Clips - also known as metal panel clips are a modern version of the French Cleat made from Aluminum. A Z Clip is made of two interlocking brackets, one half on the wall and the other half on the item to hang. Once installed you simply lift the piece on to the wall so that the Z Clips interlock and lower your piece. You can give it a slight tug to insure proper seating but that is it! Gravity does the rest.
The great thing about Z Clips is that they are so cheap you can put the clips on all your items and just leave them on. To swap out your items just lift and remove, then replace with the new item by placing, lowering and pulling down to snug the fit. Get a new piece of art? Just put half a clip on the back in just a few seconds and hang it right away on your existing rails.
Narrow down your search - Just click an image below
By using Z panel clips you can ensure the quickest, easiest and most secure method of mounting your signs, wall panels and artwork. Just Google "DIY French Cleat" and see how popular these are and after learning a bit you will see that we offer some of the lowest prices to be found. Since MBS is a manufacture of mounting clips and
signage hardware we can ensure that with these Z clips you will receive the best quality item at the lowest cost.
Z Clip Sizes

ZCP1

2"

3'

6'

ZCP2

1 1/2"

3'

6'

ZCP3

2 1/2"

3'

6'
For Professionals: in addition to being easy and fast, Z Clip fasteners are great for pre-finishing. These panel clips allow you to place the Z Clip on the back of the sign or item prior to your arrival at the client's location. Furthermore, these panel clips prevent the need to place hardware on the front of the sign for a more appealing look.
Another perk about Z-Clips is that they can be used to mount glass, ACM or Phenolic panels. With the use of Z Clips these panels can be mounted extremely close to walls.